A bourbon review by Kyle O'Connor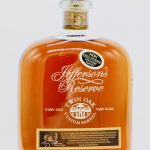 Jefferson's Reserve Twin Oak uses barrels with deep grooves that increase the surface area with which the bourbon interacts.  This gives it a very prominent wood flavor throughout the entire drink.
On the nose, you will get a heavy amount of wood as well as honey and baking spices, with a hint of herbs on the tail. The palate will have wood popping up with a nice sweet corn with a good kick of spice. The finish includes a slight cocoa bean with an unexpected pineapple rind.