A bourbon review by Kevin Casey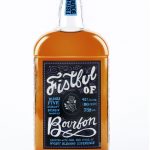 The full story of Fistful of Bourbon, as told by whomever, is that Scotland's best whiskey blenders have married together five great bourbons.  Guess what?  They did a great job.  Let me walk you through it. The first thing you notice is the smell.  It's not just spicy, but to me it oscillates between rich brown sugar and a concentrated orange oil.  It's something to look forward to every time you lift the glass.
Take your first sip of Fistful of Bourbon.  As it washes over your palate, it will feel piquant and warming.  I immediately noticed that it is pleasantly full bodied for a whiskey in this price range.  Then subsequent sips will present flavors of candied ginger, cloves, all spice, and an earthy cinnamon that lingers from sip to sip.  It is not, however, big oak or big vanilla that some people look for in an American bourbon.
The flavor profile really lends itself to an approachable old fashioned.  Maybe something for people that aren't sure they like whiskey cocktails but are willing to give it a try.  My suggested recipe is:
2 parts Fistful of Bourbon
1/2 part simple syrup
2 dashes orange bitters
Stir with ice, then strain into an rocks glass over one big ice cube
garnish with an orange twist (optionally cut into a parallelogram to be extra fancy pretentious)
I've mentioned the price once.  So it's worth mentioning it again.  Fistful of Bourbon really punches above its weight class.  As of March 2020, it can be had for $24.99 (plus tax and deposit, of course).  You will find it regularly stocked in with the rest of our bourbons, but you can always have Drizly bring the party right to your doorstep.  And I promise that you'll find it on my shelf at home.