A bourbon review by Kyle O'Connor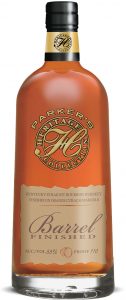 The nose on this 12th edition of the Parker's Heritage Collection is nice and sweet, and accompanied by orange peel. There is not much oak but there is a slight floral smell. The palate is largely orange curaçao with muted bourbon flavors (vanilla, oak, caramel) popping. The good news is this bourbon is 110-proof which is the strength at which I recommend adding just a splash of water.  Doing so allows the bourbon flavors to be more prominent and balances out the orange flavors from the curaçao barrels. After adding water, the finish was fruity with vanilla and caramel, and of course pepper!
I recommend that you serve this bottle with a bit of water so you can experience the distinctive bourbon flavors that the Parker's Heritage Collection is known for.