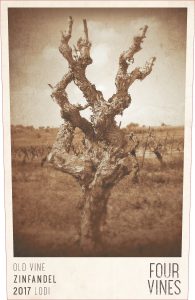 Four Vines Old Vine Zinfandel is another great bang-for-buck wine in the Zin section.  It's been a while since we've had it, and we're happy to be bringing it back.  Kevin, in particular, likes the "peppery spiciness" of it.
About the winery:
"When we were looking to craft a winning Zin, we looked no further than the Lodi region.  Located in an enological enclave known for its Mediterranean climate and sandy soils, Lodi is the ultimate region for extracting the pinnacle of Zinfandel flavors."
About the wine:
"Four Vines Old Vine Zinfandel features ripe wild berry flavors with a hefty dusting of spice and zesty pepper.
"Located in California's Lodi region, our vineyards are between 30 to 50 years old.  Here our ancient, head-trained vines yield only a few grape clusters; each with small, intensely flavored berries.  As a result, Four Vines Old Vine Zinfandel is bold in both flavor and body.
"At harvest time, grapes were picked during the cool night and early morning hours and delivered immediately to the winery to be de-stemmed and gently pressed into fermentation tanks.  After seven to nine days of fermentation, the wine was gently racked into a combination of French, Hungarian and American oak for malolactic fermentation and ten months of aging."