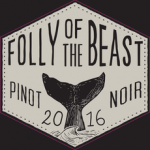 Folly of the Beast Pinot Noir is a great bang for buck wine we just brought in.
From the producer…
A perfect cooler weather Pinot with a warmth and ease that brings people back again and again.
It's our mission — our madness, if you will — to consistently deliver great, single varietal Pinot Noir at an affordable price. To create this white whale of the wine world, we went to California's Central Coast – where the foggy mornings and cool evenings have a favorable effect on the heartbreaker grape. A certain amount of skill and tenacity is essential to produce a Pinot of this stature – and Folly of the Beast is proof that a little madness pays off.
Aged in 33% new French oak for 12 months to enhance notes of sweet spice, this round Pinot pairs nicely with pork, poultry and cheeses.
Kevin says, "I like it."