A gin review by Kevin Casey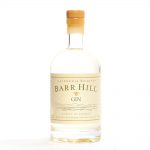 Barr Hill Gin from Caledonia Spirits is about as simple as gin can get.  It's made with juniper and raw honey.  The nose reminds me of the first trimming of evergreen shrubs in the spring.  Imagine all those clippings piled up and then accidentally falling in the pile.  I want to wear it as a cologne.
But how does it drink?  It feels thick and viscous, almost oily.  It has a nice sweetness up front from the honey, but a wonderful spiciness in the finish.
That oily character carries through to a martini, too.  Perhaps Dolin vermouth wasn't a good pairing for it, or a 5:2 ratio wasn't enough vermouth, because it got lost in the gin.  Unfortunately it also "muddied" up the best parts of the gin, so it wasn't a winner.  I'll keep playing with different ratios and brands of vermouth, because this should be stellar in a martini.