A whiskey review by Kyle O'Connor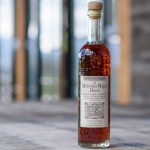 The nose on this edition of A Midwinter Night's Dram has distinct notes of plum, orange, and rhubarb with a mix of cinnamon and cedar towards the tail. The flavor is a dark cherry with a nice amount of molasses and fall spices. On the finish, I get a nice cedar spice as well as a sweet dark fruit that I can't put my finger on. This has similar qualities to the last edition of the Midwinter Night's Dram that I reviewed but I greatly enjoy the dark fruit notes in this edition more than previous years.
Check out all of our reviews here.